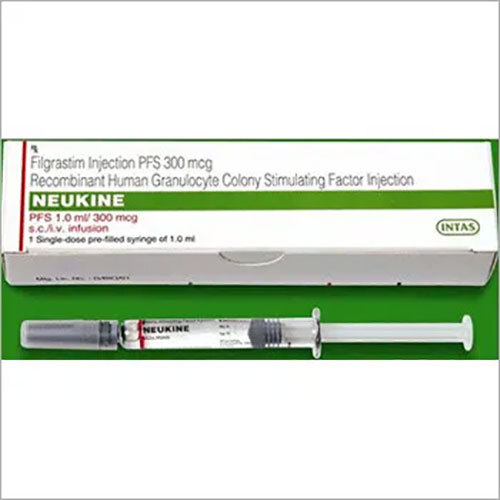 300mg Neukine
Product Description
We are offering a highly effective and laboratory tested 300mg Neukine, which is utilized for Risk of infections in patients getting chemotherapy, Low level of neutrophils, HIV infection, Bone marrow transplant, Congenital neutropenia, Mobilization of peripheral blood progenitor cells, and other conditions. This type of injection stimulates the development of white blood cells and aids in reducing the possibility of infection in patients, undergoing chemotherapy procedures for cancer. The 300mg Neukine is formulated with essential chemical compounds, and comes in protective packaging.

Specifications :

The suggested starting Filgrastim dose is 5 mcg/kg per day subcutaneous injection, short intravenous infusion (15 - 30 minutes), or constant intravenous infusion
The recommended Filgrastim dose is 10 mcg/kg per day provided as an intravenous infusion no longer than 1 day.
The suggested Filgrastim dose is 10 mcg/kg per day subcutaneous injection. The dose should be directed for at least 4 days before first leukapheresis procedure and carried on until last leukapheresis
The recommended Filgrastim first dose is 6 mcg/kg subcutaneous injection two time in a day, and 5 mcg/kg subcutaneous injection per day.

Specification
| | |
| --- | --- |
| Packaging Size | 1 ml prefilled Syringe |
| Packaging Type | Prefilled Syringe |
| Dose | Pre-filled syringe of .5ml |
| Product Type | Finished Product |
| Brand | Neukine |
| Strength | 300 mg |