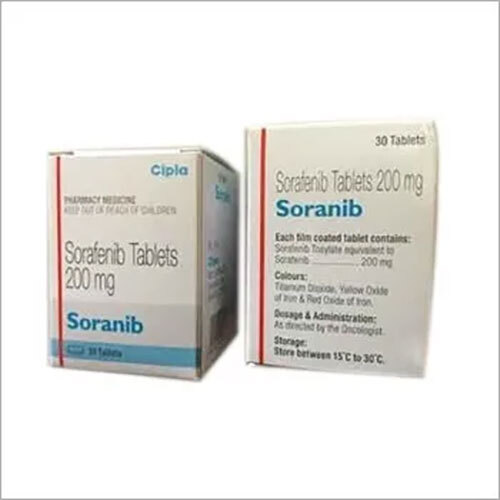 Soranib Sorafenib Tablet
Product Description
We are bringing forward Soranib Sorafenib Tablet, which is an anti-cancer (chemotherapeutic) formulation. It works by stopping the growth and preventing spreading of cancer cells in the body. It is highly effective in the treatment a kind of kidney cancer known advanced renal cell carcinoma. Also, tis is perfect medication for treatment of liver cancer. Soranib Sorafenib Tablet may also be utilized for objectives not mentioned in this medication guide. Don't use this medicine in case of pregnancy. It could harm the fetal. Utilize effective birth control when you are utilizing such medicine and for at least 14 days after your treatment completes, whether you are a woman or a man.

Specifications :

Brand : CIPLA Limited
Active Ingredient : Sorafenib Tosylate
Strength : 200 mg
Packing : 120 tablets in a bottle
Precautions and Warnings :

Should not be taken without discussing the physician if the patient ever had pulmonary fibrosis (scarring of the lungs), or kidney or liver disease
Not suggested in case of allergic to the tablet or any of its ingredients.

Kindly inform the physician immediately, if allergic reactions (closing of the throat, difficulty breathing, swelling of the tongue, lips, or face; or hives), liver problems, lung problems, eye problems, vomiting, severe nausea, loss of appetite, or diarrhea at the time of treatment are noticed
Physician consultation suggested for pregnant ladies or for those who are lactating their infants.
Additional Information :

Pay Mode Terms : T/T (Bank Transfer), and Other
Production Capacity : 1000
Port of Dispatch : Mumbai
Delivery Time : 5 to 10 Days
Technical Specifications

| | |
| --- | --- |
| Active Ingredient | Sorafenib Tosylate |
| Packaging Size | 120 tablets in a bottle |
| Packaging Type | Bottle |
| Strength | 200 mg |
| Dosage Form | Tablet |